Elegant, chic, sophisticated, without renouncing "reckless" experiments. The collection FW 2015-2016 Chanel remains faithful to the aesthetics of the house, expanding it and transforming it with the confidence of one who knows that "milestone" of fashion.
The autumn-invermo 2015-2016 collection of Chanel? So "Chanel"! It 'impossible to describe otherwise the leaders sent the catwalk at Paris Fashion Week by Karl Lagerfeld. The fact of the house name, identifies one characteristic and unmistakable style that asserts itself, through the lines, shapes, materials that are part of the legacy of Coco, broken down and rebuilt by the Kaiser in a research activity that has the incredible ability to renew itself forever without ever betraying its origins.
From Sixties to love
In the setting of the Grand Palais, transformed for the occasion into a brasserie, Karl Lagerfeld presents a collection that draws on the taste and style of the 60s to take off and explore contemporary influences and futuristic, oscillating between classicism and experimentation, luxury and ready to wear.
By tight clothing at the waist with a flared skirt with palazzo pants and flared, from sweaters to the bon ton skirts, from optical prints and abstract tartan and houndstooth, FW 2015-2016 collection of Chanel pays homage to an aesthetic and a style which are the cornerstones of fashion, without falling into the trap of awe. Moreover, the house on the Rue de Cambon is itself in the role of fashion and its creative director Kaiser proves it with work and unpublished details, experimental, and-in some ways-"reckless".
Jackets in 3D leather quilt, the sovraspalla in armor, skirts and coats made with layers of different materials fringes and contrasting oversized collars fact testify to the perpetual formal research and material that animates Chanel since its origins and who has It did what it is today.
So chic, pretty much snob
The autumn-winter 2015-2016 collection of Chanel is simply elegant. And 'chic, sophisticated and luxurious. Practically snob. Karl Lagerfeld fact does not hesitate to use precious materials to create garments with refined design, alternating classical forms to other experimental, focusing on the result of style details of a creativity that stems from a boundless sartorial skills.
To make unique proposal for next season here is thus triple buttoning, workings "squamous" made ​​of sequins, shirts and dresses in suede , colored leather mosaics, fabrics treated to obtain an alienating "pulled strings" effect, and unstructured jackets and coats oversized stones and embroidery, beads and sequins.
The awareness of its "weight" in the fashion universe by Chanel feels right in this aesthetic research released from any limitation and restriction, almost heedless of judgment and focused on achievement and overcoming of new horizons, for a concept of fashion and style that proudly declares "over."
Accessories: what else?
Rounding out the FW 2015-2016 collection designed by Karl Lagerfeld for Chanel there are of course the accessories, among which-it goes without saying – the bags. The timeless 2.0 returns always true to itself and renewed with the same 3D processing quilt jackets, accompanied by mosaic pouches, hard, it bag of all shapes and sizes, postwomen reminiscent Seventies made ​​with pants and jewel clutch and decorated with double "C" and "5", in homage to the iconic fragrance that has helped create the myth of Chanel.
Gallery
Chanel Fall-Winter 2014-2015 Fashion Trend Forecasting 2018
Source: thebestfashionblog.com
Paris Fashion Week – Chanel Fall 2015
Source: amalialoves.com
Chanel Fall-Winter 2014-2015 Fashion Trend Forecasting 2018
Source: thebestfashionblog.com
Chanel Ready To Wear Fall Winter 2015 Paris
Source: nowfashion.com
Chanel Ready To Wear Fall Winter 2015 Paris
Source: nowfashion.com
Chanel Fall-Winter 2014-2015 Fashion Trend Forecasting 2018
Source: thebestfashionblog.com
Chanel Ready To Wear Fall Winter 2015 Paris
Source: nowfashion.com
Chanel Fall-Winter 2014-2015 Fashion Trend Forecasting 2018
Source: thebestfashionblog.com
Chanel Fall/Winter 2015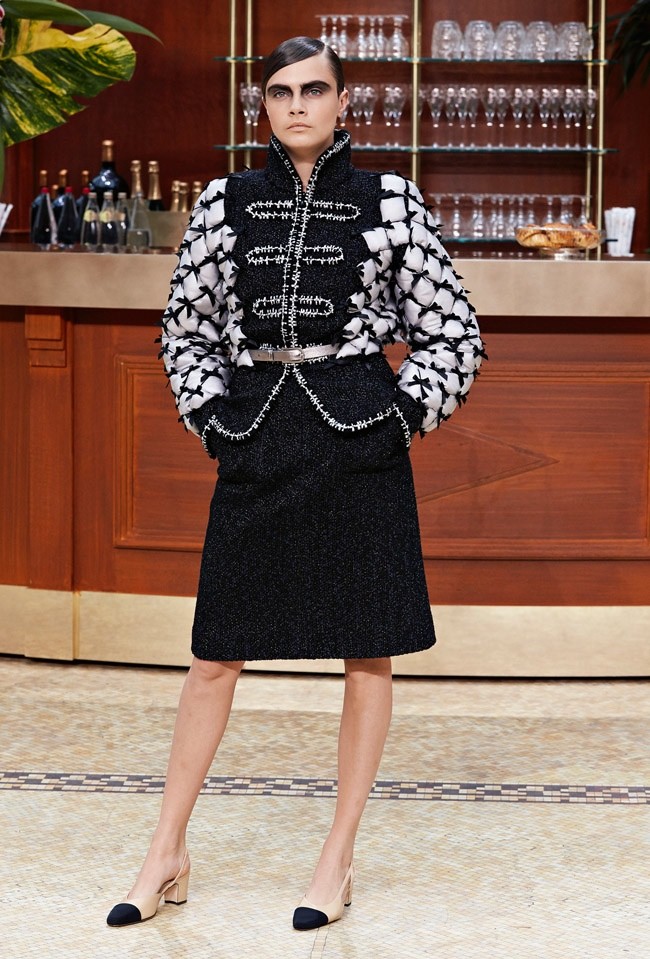 Source: www.15minutenews.com
Chanel Fall/Winter 2015/2016 Campaign
Source: thefashionography.com
Chanel Ready To Wear Fall Winter 2015 Paris
Source: nowfashion.com
Chanel Fall/Winter 2015/2016 Campaign
Source: thefashionography.com
Chanel Ready To Wear Fall Winter 2015 Paris
Source: nowfashion.com
Chanel коллекция | Коллекции осень-зима 2015/2016
Source: www.vogue.ru
Chanel Fall-Winter 2015-2016 Collection PFW
Source: afmu.net
Chanel Ready To Wear Fall Winter 2015 Paris
Source: nowfashion.com
Chanel Couture Fall Winter 2015 Paris
Source: nowfashion.com
CAMPAGNE DE PUBLICITÉ CHANEL AUTOMNE-HIVER 2015/2016 …
Source: www.avenuemontaigneguide.com
#CHANELHAUTECOUTURE 3D Fall-Winter Collection for 2015 …
Source: www.stylescoop.co.za
Chanel Fall-Winter 2014-2015 Fashion Trend Forecasting 2018
Source: thebestfashionblog.com